Shopping Cart
Your Cart is Empty
There was an error with PayPal
Click here to try again
Thank you for your business!
You should be receiving an order confirmation from Paypal shortly.
Exit Shopping Cart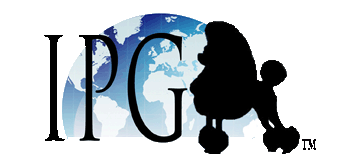 International Professional Groomers, Inc
Certification & Education for Pet Groomers, Pet Professionals
For information call 1-503-551-2397
"The care and safety of the pets
we work with is our passion.
Helping groomers thrive is our dream."
International Professional Groomers...
IPG educates and certifies groomers for the safety of the pets in our care, while increasing and acknowledging our groomers skills to elevate the grooming profession. There are IPG certified groomers in 32 countries and counting!
IPG has 3 tracks of Certification (see below).

Each Track has a stand-alone certification you earn. The completion of each track helps your success in the next track. All groomers are required to complete their Safety Certification first. Take advantage of the special here or sign up on the "Safety Certification" page.
CPG Safety Certification

Start Your Certification Journey TODAY!

Includes membership through December, 2023. price $395.00
Track 1 Certification includes shipping and membership through December 31, 2023
IPG Certification puts SAFETY first--always!
EDUCATION is so important--- these resource manuals have up to date information on safety, health, product use and more.
EASE OF TESTING: Written tests are open book and practical tesing may be done live or on "Zoom Live" with dates at least once a month.
"[I enjoyed] the amount of knowledge I gained. Even though I've been grooming for years, there are things I never knew." Nicole D. 2022
"The ability to have open book review provides a less stressful testing experience. Refreshing information that I had forgotten and sharing the same beliefs with an organization as yours is so refreshing..." Yvonne L 2021
CPG or CCG Safety Certification

flex pay special includes membership through December, 2023. price $395.00
Track 1 Certification with 2 payments. Start today and pay second payment of $200.00 in 6 weeks. Flex pay available in the USA only.
New--Instead of paying annually:

New and Renewing Members

Monthly IPG MembershipSubscription

$10.00 per month and $7.77 set up fee



15 coat types chart by Jennifer Bishop-Jenkins. Free shipping to USA
IPG CERTIFICATIONS AND APPROVALS
TRACK 1: Safety Certification
Certified Professional Groomer (CPG) Safety certification for Groomers, who will do a bath and dry and clippered pet trim on any breed. Also available in Spanish.
Certified Cat Groomer (CCG) Safety certification for Cat Groomers, who will do a bath and dry on a cat.
Certified Pet Professional (CPP) safety certification for Bathers, Salon or Day Care Staff. Also available in Spanish.
TRACK 2: Advanced Certification
Advanced Professional Groomer (APG) Advancing groomers use advanced grooming skills to demonstrate shape, style and symmetry and groom a toy breed and a double coated breed.
Advanced Cat Groomer (ACG) More cat behavior and working with special needs cats, and includes one groom.
TRACK 3: Master Groomers
International Certified Master Groomer (ICMG) Advanced Breed Profile grooming with 5 modules: Masters written test (to become MC--Masters Candidate), then Non-Sporting, Sporting, Terriers and Mixed Breeds.
Certified Master Cat Groomer (CMCG) covers cat breeds and their special needs and demonstrating advanced cat grooming skills.
IPG APPROVALS
IPG APPROVED SALON For salons with certified staff, meeting criteria for safety and sanitation, and following PPGSA standards
IPG APPROVED SCHOOL & APPROVED TRAINING CENTERS For schools meeting criteria for Safety Approved Salon with curriculum, certified Instructors, and Graduation goals.
Approved Schools offer CPG certification to their students.
IPG CERTIFIERS Master Groomers who have apprenticed to become Level 1, 2 or 3 Certifiers.
/