Shopping Cart
Your Cart is Empty
There was an error with PayPal
Click here to try again
Thank you for your business!
You should be receiving an order confirmation from Paypal shortly.
Exit Shopping Cart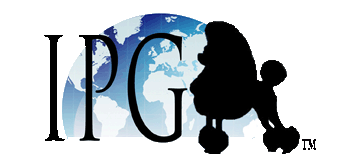 International Professional Groomers, Inc
Certification & Education for Pet Groomers, Pet Professionals
For information call 1-503-551-2397
FINDING A PROFESSIONAL GROOMER FOR YOUR PET

8 SIMPLE STEPS TO CHOOSING A SAFE PET GROOMER

These tips give you a best start at choosing a safe pet groomer. Always go with your personal feelings—and those of your pet!

1. Are they a member of major grooming association and certified as a professional groomer, with a code of ethics visible:

International Professional Groomers**
National Dog Groomers Association ;
International Society of Canine Cosmetology
Professional Pet Groomers and Stylist Alliance

Professional Membership and Code of Ethics is a sign that the groomer is working at being a professional;
it's a great start, and shows they are trying to be "Best Practices" groomer.

2. Do they inquire about your pet's health, vaccinations and behavior concerns, who your Veterinarian is in case of accident?

· Keeping your pet healthy begins with screening for sick pets and helps prevent exposure to
contagious illness or parasites. Knowing emergency contacts and Veterinarian choices in
the rare case of illness or injury gives your pet the best possible care.

3. Salon Safety: Does it smell clean, are the pets behind a barrier to prevent "escape," fire extinguisher, emergency plan, first aid kit, floor mats, safe pet restraints in use.
·
If the shop is messy, dirty or unsafe for the groomers, your pet's safety may not be a primary concern.

4. Do they offer a Salon tour, or allow you to watch the groom?
·
You should expect transparency in the way they handle your pet. It is true some pets behave "worse"
when the owner is present, but the option to watch and/or see the facility is a "best practice."

5. If crate dryers are used, are the under constant observation by a staff member?
·
Crate/kennel/cage dryers can easily cause overheating or be very cold—depending on the type.

Pets can quickly go from being uncomfortable to dangerously too hot or too cold.
Constant supervision is absolutely necessary for your pet's safety.

6. Ask what clipper blade size they use (the #7 blade can be dangerous, especially on the pet's legs)
·
The #7 blade has sharp, widely spaced and long teeth; it is very easy to catch loose skin and

cause nicks and cuts. It is a fast blade to clip with—but it is NOT "pet friendly."

7. How long do they keep your pet? The stress of being in a crate all day may be difficult on your pet, especially senior pets)
·
Sometimes it is necessary to leave your pet at the groomer all day, because of your schedule,etc.
However, it is not comfortable for senior dogs, pets with separation anxiety or young puppies.

They would rather be with you! Less stress means a better experience all around.

8. Finally: Is your pet happy when you pick it up?
·
Trust your pet's reactions. Are they perky, alert and tail waggin'? Or are they tired, stressed
and irritable? Your pet may not be a 'good fit' with that groomer—even a safe groomer.

Pets just get along better with some people.
/