Shopping Cart
Your Cart is Empty
There was an error with PayPal
Click here to try again
Thank you for your business!
You should be receiving an order confirmation from Paypal shortly.
Exit Shopping Cart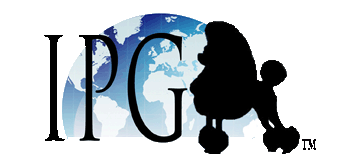 International Professional Groomers, Inc
Certification & Education for Pet Groomers, Pet Professionals
For information call 1-503-551-2397
These smocks are light weight and long lasting with high quality construction. Zippers sturdy and reinforced. Smocks are available is sizes XS to 5X.
Available in 5 colors: black, royal blue, pink, lavendar and aqua.
Available in two zipper styles: regular and jeweled.
STANDARD FIT smocks have short sleeves and pockets. Great choice for men or women.
FITTED SMOCKS have a Mandarin collar, shorter sleeve and no pockets.
CERTIFIED GROOMER SMOCKS. When you earn your certification order a smock announcing your certification and with the IPG logo on the sleeve.
* If you are interested in custom IPG smocks, contact Linda at 503-551-2397. Have your company name and logo printed on smocks. Special order items with custom embroidery are non-refundable. .
Regular Fit Smock, Regular Zipper, Extra Small
Regular Fit Smock, Jeweled Zipper, Extra Small
Regular Fit Smock, Regular Zipper, Small
Regular Fit Smock, Jeweled Zipper, Small
Regular Fit Smock, Regular Zipper, Medium
Regular Fit Smock, Jeweled Zipper, Medium
Regular Fit Smock, Regular Zipper, Large
Regular Fit Smock, Regular Zipper, Large
Regular Fit Smock, Regular Zipper, Extra Large
Regular Fit Smock, Jeweled Zipper, Extra Large
Regular Fit Smock, Regular Zipper, 2X
Regular Fit Smock, Jeweled Zipper, 2X
Regular Fit Smock, Regular Zipper, 3X
Regular Fit Smock, Jeweled Zipper, 3X
Regular Fit Smock, Regular Zipper, 4X
Regular Fit Smock, Jeweled Zipper, 4X
Regular Fit Smock, Regular Zipper, 5X
Regular Fit Smock, Jeweled Zipper, 5X
Fitted Smock, Regular Zipper, Extra Small
Fitted Smock, Jeweled Zipper, Extra Small
Fitted Smock, Regular Zipper, Small
Fitted Smock, Jeweled Zipper, Small
Fitted Smock, Regular Zipper, Medium
Fitted Smock, Jeweled Zipper, Medium
Fitted Smock, Regular Zipper, Large
Fitted Smock, Jeweled Zipper, Large
Fitted Smock, Regular Zipper, Extra Large
Fitted Smock, Jeweled Zipper, Extra Large
Fitted Smock, Regular Zipper, 2X
Fitted Smock, Jeweled Zipper, 2X

For More Info on IPG Contact Us At [email protected]
©2020 International Professional Groomers, Inc
/